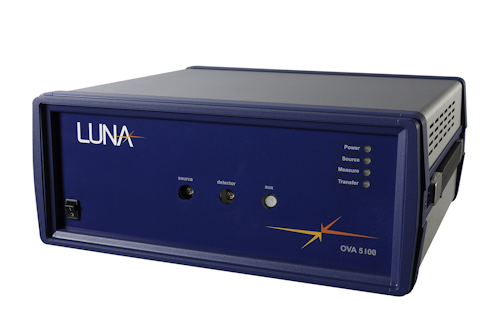 OVA 5100
Optical Vector Analyzer
The Luna OVA 5100 is the fastest, most accurate and economical tool for loss, dispersion and polarization measurements of modern optical networking equipment.
*The OVA 5100 is a direct replacement for the OVA 5000 with equivalent functionality. For more information on the differences, see this comparison of OVA 5100 and OVA 5000.
The OVA 5100 is the ideal device for single-connection, all-parameter characterization of fiber components from couplers to specialty fiber and everything in between (Fiber Bragg Gratings, arrayed waveguide gratings, free-space filters, tunable devices, amplifiers, etc.), all with a single sweep of a tunable laser.
The OVA 5100 uses an interferometric method to directly measure the linear transfer function (Jones Matrix), from which all standard linear parameter measurements can be accurately extracted.
 
Key Features

Single measurement, all-parameter analysis
Full characterization of components in less than 3 seconds
Complete polarization response
With single scan, simultaneously measure loss, polarization, dispersion, phase and time domain response
Available for C and L band, or O band
 

Specifications

Wavelength range

1525 - 1610 nm (OVA 5000)

1270 - 1340 nm (OVA 5013)

Wavelength resolution
1.6 pm
Dynamic range
80 dB
Measurements

Insertion Loss (IL)
Polarization Dependent Loss (PDL)
Polarization Mode Dispersion (PMD) and
Second-Order PMD
Chromatic Dispersion (CD)
Group Delay (GD)
Optical Time Domain Response
Jones Matrix Elements
Optical Phase Response

Device length
Up to 150 m/75 m (transmission/reflection)

For full specifications, please download the data sheet.
Solutions and Applications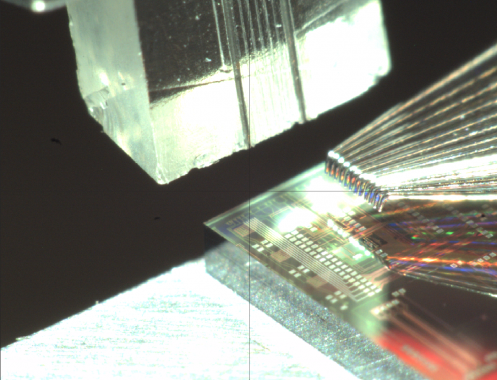 The OVA 5100 is the most comprehensive passive optical component analyzer available for research, product development and manufacturing test.
Contact Sales to Learn More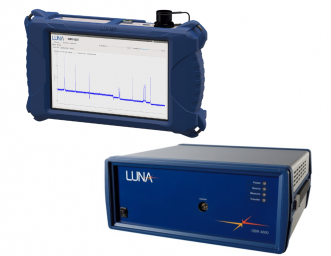 Fiber Optic Network Test
Test and characterize fiber optic cables, assemblies and network with unmatched speed, precision and spatial resolution. Luna's OBR reflectometers can analyze loss with a spatial resolution and sensitivity unmatched in the industry.
Distributed Network Analyzers (Reflectometers)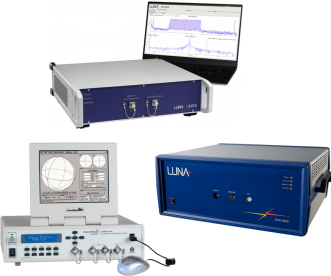 Distributed Component Analyzers