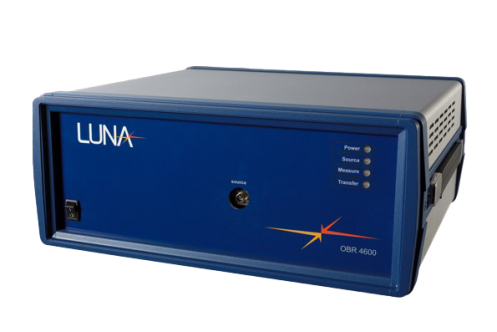 OBR 4600
Optical Backscatter Reflectometer (OBR)
The Luna OBR 4600, an Optical Backscatter Reflectometer (OBR), is a powerful tool for testing and analyzing loss in short-run networks and components.   
The Optical Backscatter Reflectometer (OBR) 4600 is an ultra-high resolution reflectometer that features a spatial sampling resolution of 10 microns, zero dead zone, and backscatter-level sensitivity. The OBR 4600 offers industry leading technology to precisely track loss and polarization states, allowing you to "see inside" your components and systems.
Key Features

Ultra-high resolution (10 μm sampling) reflectometer with "zero dead zone".
Measure RL, IL, distributed loss, length, polarization states, phase derivative and group delay
80 dB dynamic range 
Backscatter-level sensitivity (-130 dB)

Specifications

Wavelength range

OBR 4600:  1525 - 1610 nm

OBR 4613:  1270 - 1340 nm

Device length modes
30 m, 70 m, 2000 m (optional)
Sampling resolution

10 μm (30 m length)

20 μm (70 m length)

Sensitivity
-130 dB
RL dynamic range
80 dB
IL dynamic range
18 dB

 For full specifications, please download the data sheet.
Solutions and Applications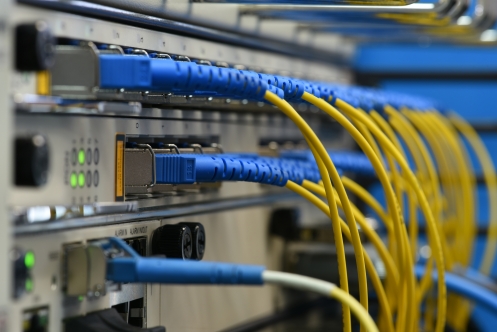 The OBR 4600 is the premier reflectometer for a wide variety of fiber optic network and component test.  
Contact Sales to Learn More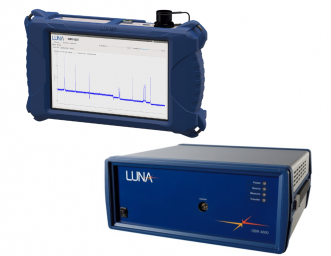 Fiber Optic Network Test
Test and characterize fiber optic cables, assemblies and network with unmatched speed, precision and spatial resolution. Luna's OBR reflectometers can analyze loss with a spatial resolution and sensitivity unmatched in the industry.
Distributed Network Analyzers (Reflectometers)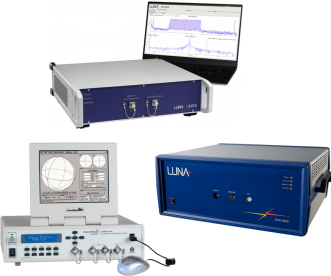 Component Characterization
Distributed Component Analyzers