Process Control and Non-Destructive Testing
Process Temperature Monitoring
Temperature is a critical parameter in most industrial processes. The ability to manage and optimize production often requires the accurate measurement of temperature at multiple points and locations. Limitations of traditional sensors, such as thermocouples and RTDs, often lead to indirect measurements, sensing by proxy and working with a limited amount of sensor data.
Luna's fiber optic sensing (FOS) technology allows direct and real-time temperature mapping using small, lightweight optical fiber, eliminating bulky sensor wiring.
Fiber optic sensors are small enough to be mounted or embedded into materials and on complex geometries, allowing fast and accurate temperature measurement where thermocouples can't be mounted and IR cameras can't access.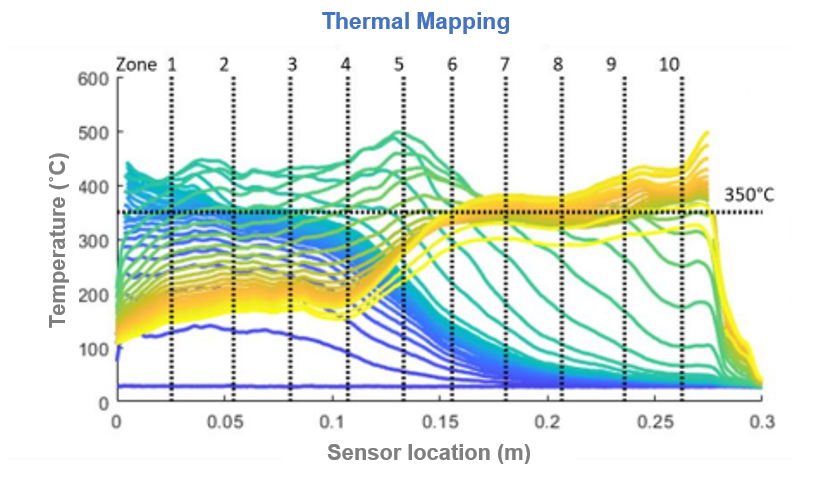 A single fiber generates a continuous temperature mapping, with individual sensing locations spaced from 1 cm to less than 1 mm along the fiber or temperature probe, virtually guaranteeing that hot spots are not missed.  Data is available in real-time for monitoring and feedback control.  
Example Process Applications
FOS Temperature Solution

Autoclaves
Heat exchangers
Incubators
Ovens and furnaces
Refrigerators
Welders
Environmental chambers
Steel casting
Transformers and power systems

Real-time thermal mapping
Continuous mapping (100 sensor points per meter or more) reduces risk of missing hot spots
Eliminate bulky sensor wiring
Fast thermal response (low mass)
Immune to EMI and corrosion resistant
Learn More About Our Capabilities