blog
Portable High-Resolution Reflectometer for Field Maintenance Applications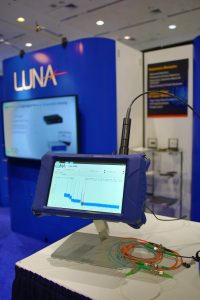 Luna has released the industry's highest resolution portable reflectometer. The OBR 6200 Series performs advanced inspection and diagnostics of fiber optic assemblies and networks.  Luna's proven Optical Backscatter Reflectometer (OBR) technology provides advanced design, diagnostic and inspection capabilities to fiber-optic manufacturers, developers and installers by illustrating a map, in ultra-high resolution, of an optical link.
OBR 6200 Series instruments are rugged, hand-held reflectometers with ultra-high sensitivity for testing and troubleshooting short fiber optic networks up to 100 meters in length. This breakthrough new product will bring significantly enhanced diagnostic capabilities to the installation and maintenance of commercial and military avionics, data center networks and industrial manufacturing applications.
The OBR 6200 series was initially developed for field support and maintenance of fiber optic links onboard advanced aircraft, such as the F-35 Joint Strike Fighter. Because of this, OBR 6200 was designed with ruggedness and ease of use in mind. Integrating a touch screen interface with "go/no-go" data and qualification to strict military operational and environmental standards, the OBR 6200 greatly simplifies analysis and maintenance of fiber optic links and is deployable in a multitude of environments.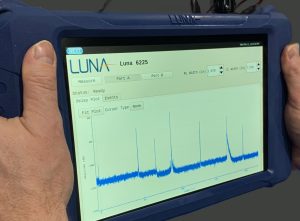 The OBR 6200 provides diagnostic capabilities in applications where the industry standard Optical Time Domain Reflectometer "OTDR" doesn't provide enough resolution or precision. With 100 times more spatial resolution and precision than other "high-resolution" OTDRs, the OBR 6200 enables pinpoint diagnostics not otherwise achievable.
This portable OBR system measures distributed return loss (RL) and insertion loss (IL) with high precision (resolution of 0.1 dB) and dynamic range. It easily locates optical loss events with sub-millimeter resolution. The system also can measure the length and time skew of optical fibers with millimeter accuracy.
The OBR 6200 Series instruments are ideal to use in the field for service and maintenance applications because the units are ruggedized with IP65 (water-resistant and dustproof) and MIL-STD certifications, and their fast acquisition rate reduces susceptibility to vibration. The handheld units have an easily chargeable Li-Ion battery and work with single-mode and multimode fiber.
Learn more about the OBR 6200 portable OBR system