blog
Verifying the Integrity of Composite Adhesive Joints using the ODiSI
Chicken rivets may not sound like a very technical term.  However, it refers to the mechanical fasteners used extensively in the aerospace industry to guarantee the reliability of adhesive bonds of carbon fiber-reinforced plastic (CFRP) materials.   Because adhesive bonds are not very well understood, current certification requirements need proof that should a critical design load be reached, each adhesively bonded joint will not separate and cause structural failure. The easiest and cheapest way to do this is to assemble the parts with these additional mechanical fasteners, or chicken rivets.
Do the additional fasteners compromise the part?
Unfortunately, these additional fasteners actually negate many of the major benefits of adhesively bonded joints, including higher joint stiffness and superior fatigue performance. Instead of uniformly transferring the load across the bonded interface, fasteners and holes create stress concentrations. Additional fasteners add weight and their holes encourage environmental degradation through water ingress, humidity and corrosion.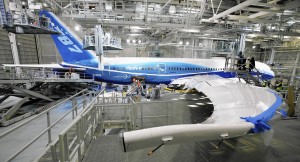 What can we do to better-understand the joint?
One way to accelerate the move away from chicken rivets is to develop a greater understanding of damage growth in bonded structures. Researchers have been using Luna's distributed strain sensing system in order to assess the tough-to-detect flaws and damage that might affect the integrity of adhesive joints. How uniform is the load distribution? How does failure initiate and evolve? What model parameters should be used to analyze these joints?
Luna's ODiSI platform allows for strain measurements to be captured at every millimeter along a continuous optical fiber sensor, allowing you to see the strain profile across the entire joint with a single scan. Any defects can be easily detected as steep strain gradients during both static and fatigue loading, and tracked accurately across the joint. In addition to that, the small fiber sensor size lends itself to being embedded directly into the bond line. This means that you now have a micro-local measurement at that joint. Finally, when a finite element model of the part is created, the ODiSI's measurement points can be used to provide real-life calibration data across the entire structure. This is in contrast to being limited to the single points that you acquire using surface-mounted electrical foil gages.
What have other researchers learned?
The body of research is expansive and growing. Researchers from Mississippi State University showed that the addition of fiber sensors inside the joint does not at all impact bond strength (https://arc.aiaa.org/doi/abs/10.2514/6.2016-0239). Researchers in Norway used the distributed sensor to track the growth of an intentional defect, with quasi-static tensile loading, and tracked the strain gradients throughout the de-bonding process (https://www.sciencedirect.com/science/article/pii/S1359836815000086). In a multinational collaborative effort, Ribeiro and colleagues used the ODiSI system to evaluate the stability and rate of disbond growth (https://www.tandfonline.com/doi/abs/10.1080/00218464.2018.1433039). In these papers, accompanying finite element models were also created and used as cross-reference validation for the distributed strain measurements.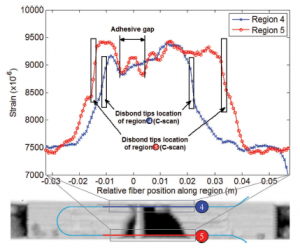 Conclusion
The use of adhesive joints is gaining traction not just in the aerospace industry, but also in the automotive and energy industries, for lightweighting and strength optimization. As such, it would be massively beneficial to be able to evaluate the integrity of these joints in a more robust and direct way.
To learn more about how to better understand the behavior of adhesively bonded parts, check out our ODiSI distributed sensing platform.
References
1              Fabricio N. Ribeiro, Marcias Martinez & Calvin Rans (2018) Evaluation of mode II fatigue disbonding using Central Cut Plies specimen and distributed strain sensing technology, The Journal of Adhesion, DOI: 10.1080/00218464.2018.1433039