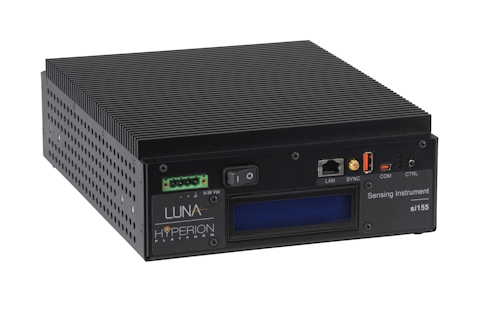 HYPERION si155
Optical Sensing Instrument
Luna's HYPERION si155 is an industrial-grade fan-less interrogator for high-speed multipoint fiber optic sensing applications. Featuring both static and dynamic full-spectrum analysis, the si155 provides long-term, reliable and accurate measurements of nearly 1000 sensors on 4 parallel, 160 nm wide channels.
The si155 features a high power, low noise, ultra wide swept wavelength laser with guaranteed absolute accuracy on every scan, which is realized with Micron Optics patented Fiber Fabry-Perot filter and wavelength reference technology. 
The HYPERION platform features groundbreaking capabilities including on-board, high-performance DSP and real-time FPGA processing. This enables rapid, full-spectrum data acquisition and flexible peak detect algorithms of Fiber Bragg Gratings (FBGs), Long Period Gratings (LPGs), Fabry-Perot (FP) and Mach-Zehnder (MZ) sensors. 
The HYPERION platform is compatible with the ENLIGHT Sensing Analysis Software, which provides an integrated suite of tools for data acquisition, computation and analysis of optical sensor networks, and also includes a comprehensive Application Programming Interface (API)
 
Solutions and Applications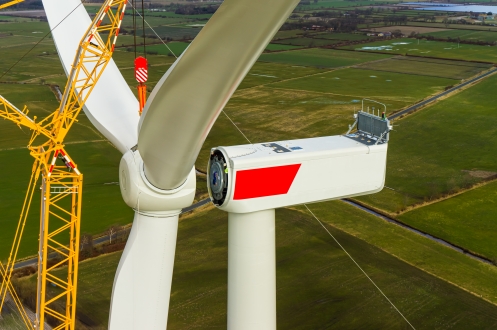 The HYPERION is an ideal sensing solution for monitoring applications in challenging conditions and environments. 
Contact Sales to Learn More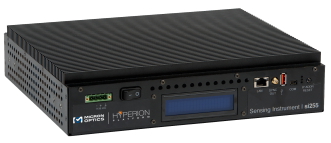 High-Speed Multipoint Fiber Optic Sensing
Sensing Analysis Software