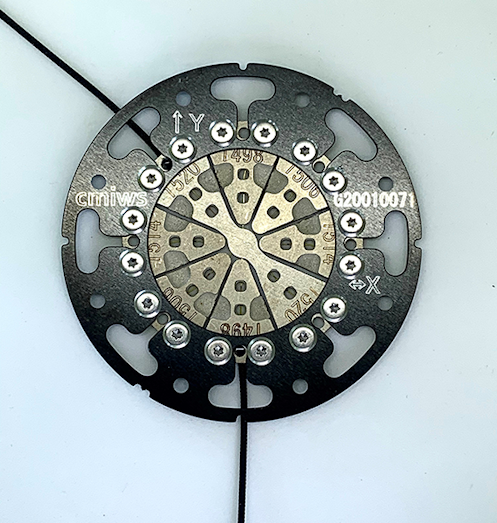 os3300
Optical Strain Rosettes by CMIWS
Luna's os3300s are fiber Bragg grating (FBG) based strain rosette sensors. Featuring simple integration, low profile sensors that can be dispersed over up to 10km, with 3 active strain elements (0°/45°/90°) for the most robust sensor coverage on the market.
The os3300 features a novel approach to compact spot weldable strain measurements, all while being able to pair with various physical parameters e.g. temperature, displacement, acceleration, tilt, pressure.

Installation is simple and repeatable with a mounting plate affixed on the os3300 to help guide the installer. With strain ranges of -1,800 to 1,800 με, and available integratd temperature compensation, the os3300 series presents a unique capability for sensor deployments. Up to 96 os3300 sensors can be integrated on Luna's HYPERION platform.

The os3300 series of sensors is compatible with ENLIGHT Sensing Analysis Software, which provides an integrated suite of tools for data acquisition, computation and analysis of optical sensor networks as well as the HYPERION platforms comprehensive Application Programming Interface (API) and examples written in LabVIEW, Python, Matlab, C++ and C#.
Key Features

Ease of installation, simple and repeatable installation
Discrete, low profile, multipoint up to 96 sensors on a single HYPERION instrument
Multiparameter various physical parameters measurements coupled onto the same instrumentation platform
Long distance, with over 10km of coverage

Specifications

Specifications
os3310
os3320 - Temperature Compensated
  Measurement Type
Strain rosette
Strain rosette, temperature compensated
  FBG Elements
 3 - Strain
3 - Strain, 1 temperature compensation
  Measurement Range
±1,800με
  Strain Sensitivity
~ 1.2 pm/με
  Measurement Angles
0, 45, 90°
  Operating Temperature
-40 to 120 °C
  Measurement Distance
Up to 10km
  Measurement Points Per Interrogator
Up to 96, 6 sensors per channel
Up to 80, 5 sensors per channel
  Scan Frequency
1kHz and 5kHz instrument options available
  Wavelength Options
1460 to 1620 nm options available
Physical Properties
 
  Dimensions
ø 34 mm Diameter, 1.5 mm Thickness
  Carrier Material
304 Stainless Steel
  Cable Type / Length
1 mm Fiberglass Braid / 1 m (± 10 cm), each end
  Fastening Method
Spot Weld
Contact Sales to Learn More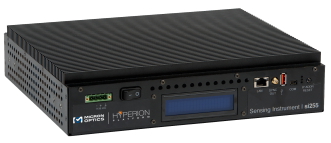 High-Speed Multipoint Fiber Optic Sensing
Sensing Analysis Software