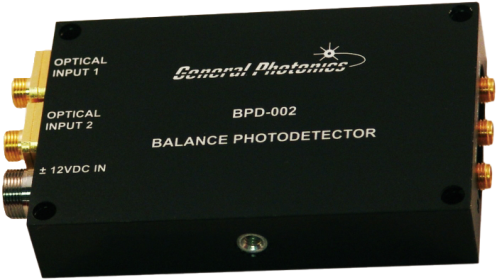 Discontinued
BPD-002
Balanced Photodetector
***THIS PRODUCT HAS BEEN DISCONTINUED***
Replacement Product: OEM Balanced Photodetector
The BPD-002 is a compact laboratory balanced detector. It has a 200 MHz bandwidth balanced RF output and two 1 kHz monitor ports, and is packaged in a sturdy enclosure.
The BPD-002 is designed for use in research and development, with ease of use and high performance as the primary design goals. The device is fully enclosed in a compact, sturdy aluminum box with two optical input ports, a balanced RF output port, two 1 kHz monitor ports, and a power supply port. With a bandwidth up to 200 MHz, a transimpedance gain larger than 30K and a saturation power larger than 130 µW, the BPD-002 can be integrated into laboratory or commercial OCT, fiber sensor, and high performance optical measurement systems.
Key Features

Low noise
High CMRR
High conversion gain
Compact

Specifications

Wavelength range
1060, 1310, or 1550±50nm
Transimpedance gain
(total, including TIA and OP-AMP)
3x104 V/A
RF bandwidth (3 dB)
DC-200 MHz standard
Balanced saturation power
>130µW at 1310nm
NEP (DC-100 MHz)
<10 pW/√Hz
CMRR
>25 dB
Monitor gain
10 V/mW (high impedance)
Monitor bandwidth (3dB)
>1 kHz

For full specifications, please download the data sheet.
Solutions and Applications
The BPD-002 is a full-function balanced detector, with RF and monitor output ports, bulkhead connectors, and the ability to be mounted in different orientations. It is suitable for both laboratory and OEM applications.
Contact Sales to Learn More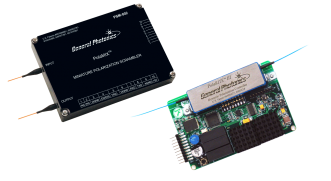 Optical Modules and Components
Luna offers a complete line of high performance active and passive fiber optic modules and components for a wide range of fiber optic systems, including interferometric systems for fiber optics sensing, fiber optic gyroscope (FOG) and optical coherence tomography (OCT).