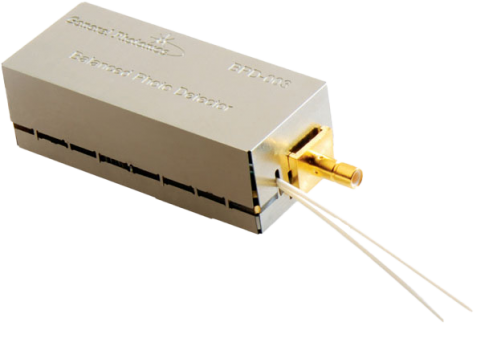 BPD-003
OEM Balanced Photodetector
The BPD-003 is a small, low noise, DC coupled balanced detector for OEM applications.
The BPD-003 combines an optical head and a post-amplification board with an SMB RF output connector. The optical head consists of two input fibers aligned with a pair of balanced photodetectors followed immediately by an integrated low noise transimpedance amplifier (TIA). The post-amplification circuit further conditions and amplifies the output signal to a range of ± 3.5 V. The device is packaged in a small, lightweight shielding box. It has a bandwidth of up to 230 MHz.
Key Features

Low noise
High CMRR
High conversion gain
Compact

Specifications

Wavelength range
1060, 1310, or 1550±50nm
Transimpedance gain at 50Ω
(TIA + post-amplifier)
50 × 103 V/A
Conversion gain at 50Ω
>40 × 103 mV / mW at 1550nm
>35 × 103 mV / mW at 1310nm
>25 × 103 mV / mW at 1060nm
RF bandwidth (3 dB)
DC-230 MHz standard
CW balanced saturation power
36 μW at 1550nm
42 μW at 1310nm
58 μW at 1060nm
NEP (DC-100 MHz)
<6 pW/√Hz
CMRR
> 35 dB (DC to 40MHz)
> 15 dB (40 to 200MHz)
RF output voltage
(linear range)
±1.75 V at 50Ω load
±3.5 V at high impedance load
Dimensions
1.95" (L) × 0.85" (W) × 0.65" (H)

For full specifications, please download the data sheet.
Solutions and Applications
The BPD-003 is a small balanced detector specifically intended for integration into larger systems such as OCT, sensor, or measurement systems.
Contact Sales to Learn More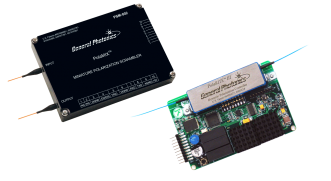 Optical Modules and Components
Luna offers a complete line of high performance active and passive fiber optic modules and components for a wide range of fiber optic systems, including interferometric systems for fiber optics sensing, fiber optic gyroscope (FOG) and optical coherence tomography (OCT).