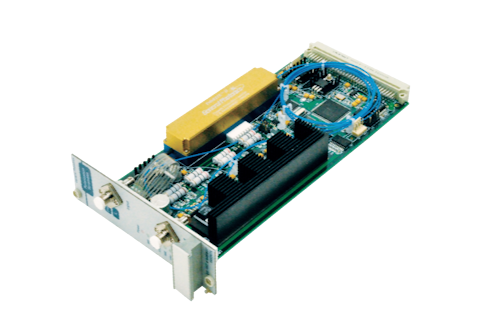 PCD-005
Polarization Scrambler
The PCD-005 Polarization Scrambler Module rapidly randomizes the instantaneous polarization state of output light to achieve a time-averaged depolarization effect. It includes circuitry to cover several wavelength bands, improve temperature performance, and add remote control capability.
The PCD-003/005 polarization scramblers combine a fiber squeezer polarization controller with specialized driver electronics to achieve uniform Poincaré sphere coverage in a few ms. Because they use the resonance frequencies of the polarization controller, the scrambling rate is fixed. Because of the all-fiber construction, they have low insertion loss and low back reflection as well as minimal phase and amplitude modulation.
The PCD-005 allows the user to enable/disable the scrambler and change the wavelength band setting from the front panel or via remote control. It is the module counterpart to the PCD-104 instrument.
Key Features

Fast, uniform sphere coverage (DOP<5% when averaged over 2 ms)
Easy to use
Low IL, RL, PDL, and PMD
Multiple wavelength bands
Remote control

Specifications

Center wavelengths
         λ range 1: 1310, 1480, 1550, 1600nm
                  λ range 2: 980, 1060, 1310nm
Wavelength range
λc ±50nm
Output DOP
<5% (averaging time ≥2ms)
IL
<0.6 dB with connectors
<0.05 dB intrinsic
Average PMD
<0.05 ps
Intrinsic PDL
<0.05 dB, excluding connectors
RL
>65 dB, excluding connectors
Residual amplitude modulation
<±0.01 dB
Residual phase modulation
<0.1π

For full specifications, please download the data sheet.
Solutions and Applications
Polarization scramblers are useful for any application that requires a quasi-depolarized signal, especially for long coherence length sources for which a passive depolarizer is not suitable.
Contact Sales to Learn More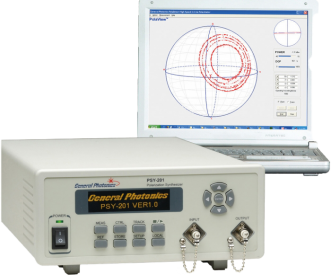 Polarization Management and Emulation
Control and manage polarization in your optical system with our lossless fiber-squeezer based multifunctional polarization controllers for highest performance. Emulate all polarization impairment parameters including SOP, PMD, and PDL, with our complete line of emulation products for network and system characterization.