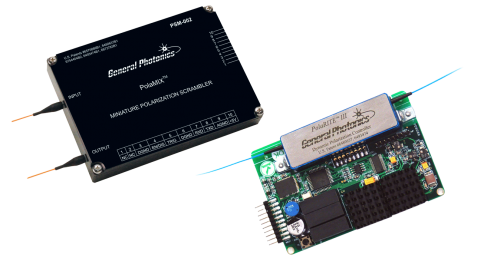 PSM-002
Miniature Polarization Scrambler
The PSM-002 Miniature Polarization Scrambler is a small module that generates discrete, random states of polarization (SOP) at a user-controllable rate.
The PSM-002 uses a fiber squeezer polarization controller to generate discrete, random polarization states at a user-controllable rate between 0.01 and 20,000 points/s, distributed for uniform Poincaré sphere coverage. It can also perform triggered random state generation for synchronization with other equipment in the system. It is designed for integration into sensor and communication systems, and is available either as a standard board for lab applications or fully enclosed in a watertight enclosure for applications in high humidity environments. It also comes in either standard or extended temperature versions.
Key Features

User-selectable scrambling rates
Environmentally rugged
Low IL, RL, PDL, and PMD
Compact

Specifications

Wavelength range
1260-1650nm or 980-1310nm
Output DOP
<5%, 2.5% typical (4000 point average)
Scrambling rate
0.01 to 20,000 points/s, user-selectable
IL
<0.6 dB with connectors
<0.05 dB intrinsic
Average PMD
<0.05 ps
Intrinsic PDL
<0.05 dB, excluding connectors
RL
>65 dB, excluding connectors

For full specifications, please download the data sheet.
Solutions and Applications
The PSM-002 is useful in any application that requires randomized polarization states at a specified rate or on receipt of a trigger signal. Applications include sensor and communication systems, polarization sensitivity elimination, and PDL measurement.
Contact Sales to Learn More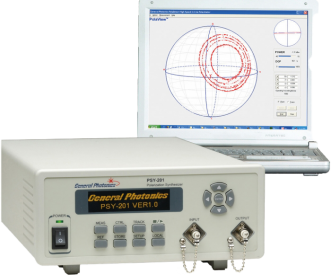 Polarization Management and Emulation
Control and manage polarization in your optical system with our lossless fiber-squeezer based multifunctional polarization controllers for highest performance. Emulate all polarization impairment parameters including SOP, PMD, and PDL, with our complete line of emulation products for network and system characterization.