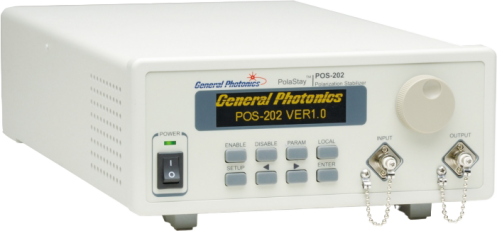 POS-202
Polarization Stabilizer
The POS-202 Polarization Stabilizer maintains stable output states of polarization (SOP) against input SOP fluctuations.
The POS-202 architecture includes a fiber squeezer polarization controller, in-line polarization monitor, and proprietary algorithms. They are able to compensate for an input polarization discontinuity in as fast as 5 ms, or track without resets against a continuous input SOP rotation of up to 32π/s.
The POS-202 is a simple instrument that stabilizes the output SOP to linear, aligned to the slow axis of its output PM fiber.
Key Features

Reset-free operation
Fast recovery time and tracking speed

Specifications

| | |
| --- | --- |
| Wavelength range | 1550, 1310, or 1060±50nm |
| SOP recovery time | <5ms (1.5 ms typical) |
| SOP rotation tracking speed | 32π/s |
| SOP accuracy | <0.1 dB (PM output fiber, after polarizer) |
| Isolation in orthogonal polarization | 20 dB |
| Insertion loss (IL) | <1.2 dB (POS-202) |

For full specifications, please download the data sheet.
Solutions and Applications
The POS-202 aligns the polarization of light to the slow axis of a PM fiber. 
Contact Sales to Learn More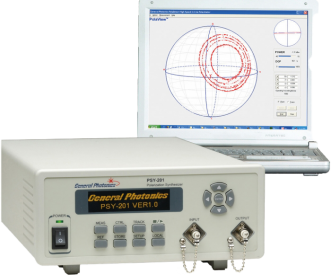 Polarization Management and Emulation
Control and manage polarization in your optical system with our lossless fiber-squeezer based multifunctional polarization controllers for highest performance. Emulate all polarization impairment parameters including SOP, PMD, and PDL, with our complete line of emulation products for network and system characterization.