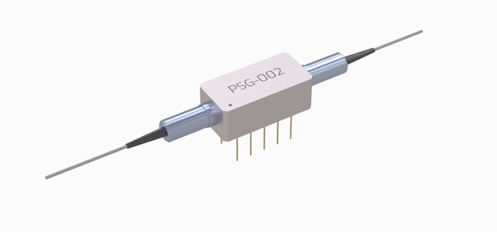 PSG-002/PSG-002-D
High-Speed Polarization State Generator
Luna Innovations' high-speed polarization state generator (PSG) module enables quick generation of up to six distinctive polarization states (LCP, RCP, Linear ±22.5°, Linear ±67.5° ) across a Poincaré sphere in less than 50 μs between two consecutive states, with high repeatability of less than 0.1°.
The new compact packaging is ideal for integration into systems that require precise generation of these 6 polarization states or precise 90° polarization rotation. The PSG-002 uses a new self-latching technique which reduces power consumption and heat generation. In addition, its predictable wavelength and temperature dependence allows for easy calibration, making it a perfect choice in swept wavelength component measurement systems and other applications.
Key Features

Switches between 6 polarization states: LCP, RCP, Linear ±22.5°, Linear ±67.5°
Typical switching time 45 μs
SOP repeatability 0.1°
Self-latching
Zero static power dissipation
4-bit control
Compact and minimal heat generation

Specifications

| | |
| --- | --- |
| Wavelength range | 1480 - 1620 nm |
| SOPs generated | LCP, RCP, Linear ±22.5°, Linear ±67.5° |
| SOP repeatability | ±0.1° on Poincaré sphere |
| SOP switching time | 45 µs (with 10 V bias) |
| Insertion Loss | 1 dB (max) |

For more specifications, please download the product flyer or contact Luna for the PSG-002 specification sheet. 

Documents

PSG-002 Product Specification Sheet (contact Luna)
Solutions and Applications
The PSG-002 is a small module suitable for OEM integration wherever a measurement requires some subset of the 6 Poincaré sphere pole points. Applications include Mueller matrix-based measurements, polarization OTDR, performance monitoring, and swept frequency component measurement systems.
Contact Sales to Learn More