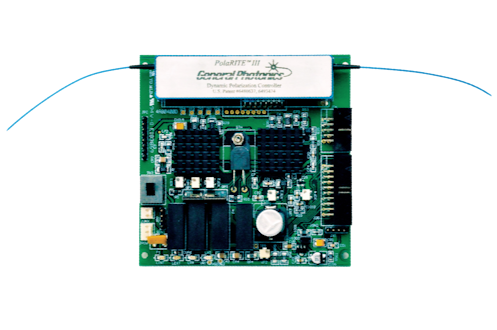 PCD-M02/MPC
Dynamic Polarization Controller
The MPC series are electrically controlled, all-fiber polarization controllers based on fiber squeezing technology. They are also available with a driver board as the PCD-M02.
The MPC series are fiber squeezer based polarization controllers packaged in a low profile 0.63 inch high enclosure. They are available with 3 or 4 fiber squeezers. Either version can generate any polarization state on the Poincaré sphere, but the 4X version provides an extra degree of freedom for reset-free operation and polarization scrambling. The all fiber design is inherently low loss, has minimal activation loss, and operates over a wide wavelength range. The athermal package design provides temperature stability over a wide temperature range. Each fiber squeezer is controlled by a 0-150V analog control voltage.
The PCD-M02 integrates an MPC polarization controller with a driver board that allows the control voltage to each fiber squeezer to be specified either by a 0-5V analog control voltage or by a 12-bit TTL signal. The board is powered by standard ±12VDC lab power supplies.
Key Features

Low insertion and activation loss
Fast response
Compact
Driver board available

Specifications

Polarization Controller

Wavelength range

1260-1650nm or 980-1310nm standard

Others available

# of fiber squeezers
3 or 4
Polarization control range
0-4π per squeezer
V π (DC, 23°C)
<35V
Rise/fall time
30µs (10-90% transition for V π change)
IL
<0.6 dB with connectors
0.05 dB intrinsic
Activation loss
<0.05 dB
PDL
<0.05 dB
PMD
<0.05 ps

With driver board

Rise/fall time

<400µs (10-90% transition, 140V change)

<65µs (10-90% transition, 15V change)

Analog control voltage
0-5V
Digital control
TTL, 12-bit data, 4-bit control

For full specifications, please download the data sheet.
Solutions and Applications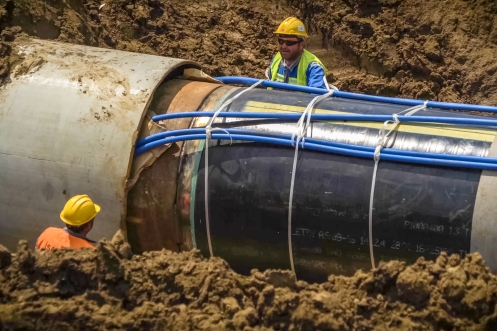 The MPC/PCD-M02 polarization controllers are small modules suitable for OEM integration wherever a fiber coupled polarization controller is needed.
Contact Sales to Learn More