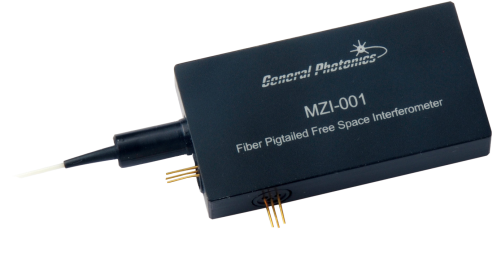 Discontinued
MZI-001
Mach-Zehnder Interferometer
***THIS PRODUCT HAS BEEN DISCONTINUED***
The MZI-001 is a fiber pigtailed Mach-Zehnder free space interferometer that detects changes in optical frequency.
The MZI-001 free space Mach-Zehnder interferometer has two high speed photodetectors for the balanced detection of the two complementary outputs of the interferometer. The free space design eliminates much of the polarization sensitivity and free spectral range (FSR) uncertainty associated with fiber interferometers. The FSR, or zero-cross spacing, can be defined to within 2%. FSRs between 10 GHz and 100 GHz are available.
Key Features

Accurate free spectral range
Temperature stable
Polarization insensitive
Fine optical frequency spacing
Compact

Specifications

Wavelength range
1060, 1310, or 1550±70nm
FSR

10, 20, 50 or 100 GHz standard

Others available

FSR tolerance
2%
Overall responsivity per channel
>0.5 A/W
Detector rise/fall time
0.3 ns with 50Ω load
Detector capacitance
0.7 pf
Return loss (RL)
55 dB, excluding connector
Polarization dependent response
<0.5 dB

For full specifications, please download the data sheet.
Solutions and Applications
Applications include determining the instantaneous frequencies of wavelength-swept light sources, providing a frequency clock for system triggering in OCT systems, detecting sensing signal spectral drift in fiber sensors, and detecting laser frequency drift in coherent communication systems.
Contact Sales to Learn More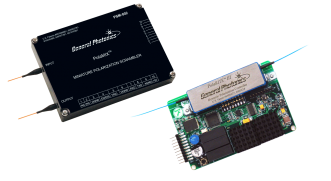 Optical Modules and Components
Luna offers a complete line of high performance active and passive fiber optic modules and components for a wide range of fiber optic systems, including interferometric systems for fiber optics sensing, fiber optic gyroscope (FOG) and optical coherence tomography (OCT).