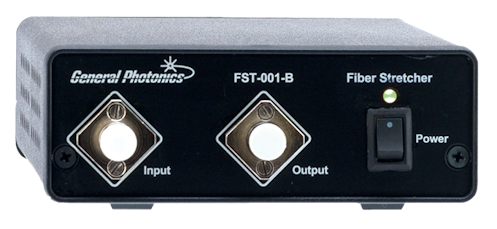 FST-001
Fiber Stretcher Module
The FST-001-B is a piezo-driven fiber stretcher with an optical delay range of up to 3 mm.
The FST-001-B Fiber Stretcher module consists of a length of optical fiber wound on a frame that can be stretched by controlling the voltage applied to 4 piezo elements. This optical module is packaged with a driver board in a metal enclosure. Each of the four piezos can be controlled independently; they can be driven individually for high resolution or collectively for maximum range. The piezo drive voltages can be controlled via either an analog voltage or via a 12-bit TTL signal. Under analog control, the driving circuit acts as a 4-channel voltage amplifier with 30V/V amplification.
Key Features

Large delay range
Low insertion loss
Analog or digital control

Specifications

Fiber type
SMF-28 standard, others available
Optical path delay range
>3mm (air equivalent)
Phase change sensitivity

810 π/V

(SMF-28 fiber at 1550nm, analog input to all 4 channels)

Internal voltage amplification
30V/V
Resonance frequency
2.2±0.3 kHz
IL
<0.2 dB, excluding connectors
IL variation
<0.1 dB
PDL
<0.05 dB (SMF-28 fiber, excluding connectors)

For full specifications, please download the data sheet.
Solutions and Applications
The FST-001 is useful for mm range optical path adjustments at frequencies from DC to 2 kHz. It can be used as a fine adjustment stage in conjunction with a motorized delay line for path matching and measurement scanning in interferometric applications.
Contact Sales to Learn More