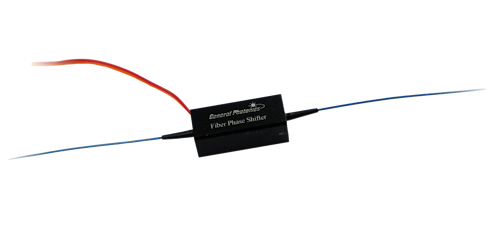 The FPS-001 is an all fiber device that shifts or modulates phase by up to 15π at frequencies from DC to 20 kHz.
The FPS-001 is a small, piezo-driven phase shifter that works by stretching a length of fiber. It can provide several π phase shift at frequencies up to 20 kHz. Because the optical path is all in fiber, the device has minimal insertion and return loss. The FPS-001 uses a straight fiber rather than fiber wound on a frame, so the optical path length in fiber is exactly the length of the device from connector tip to connector tip, and can be minimized by controlling the length of the pigtails or by using a NoTail version.
Key Features

Low IL, PDL, and residual amplitude modulation
Frequencies up to 20 kHz
NoTail model available (minimal OPL)
Compact

Specifications

Frequency range
0-20 kHz
Total phase shift range (0-20 kHz)
>8π
Half-wave voltage (0-20 kHz)
<20 V
Operating wavelengths

1260-1650 or 980-1310nm standard

(fiber dependent)

IL
<0.1 dB, excluding connectors
PDL
<0.05 dB (SMF-28 fiber, excluding connectors)
Residual amplitude modulation
±0.01 dB
RL
>65 dB, excluding connectors

For full specifications, please download the data sheet.
Solutions and Applications
The FPS-001 is useful for small-range phase shifts at frequencies up to 20 kHz. It can be used for fine adjustment or to add a dither in interferometric applications.
Contact Sales to Learn More