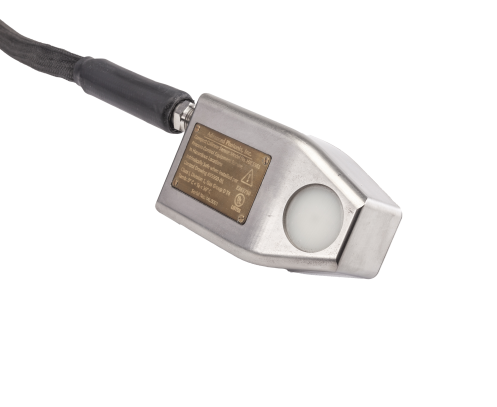 T-Ray® 5000 Series
SCS530n Online Sensor CID1
The T-Gauge Explosion Proof Thickness Measurement System (SCS530n) takes the robustness of the T-Ray® 5000 to a new level with the ability to operate in flammable atmospheres, such as paint booths or coating facilities.
Designed to be robot mountable and intrinsically safe, the SCS530n is optimized for use in spray booth applications but can be used in other applications as well. The working distance of the sensor head is fixed at 115 mm, but other working distances may be available upon request. 
The transmitter and receiver are securely mounted inside a sealed stainless steel housing. The lens is Teflon coated to resist solvents. All components in the hazardous area meet CID1 standards. The SCS530n is ideal for industrial and pilot applications where the transceiver is to be deployed in an explosive environment (paint booth, chemical plant, etc.). 
Key Features

Full transceiver functionality
Collinear design
Solvent resistant lens
Safe in explosive environments
Use to measure layer thickness
Capable of being steam cleaned

Applications

Industrial process control: commercial roofing; foam density; coating thickness; plastic extrusion; asphalt shingles
Nondestructive materials inspection: aircraft; packaged goods; radome inspection; spacecraft; pipeline repairs
Converting applications: paper coating; multilayer films; tire
 
Solutions and Applications
The T-Ray® 5000 terahertz measurement system is robust enough to be deployed in an industrial environment and has all of the flexibility to solve your measurement application.
Contact Sales to Learn More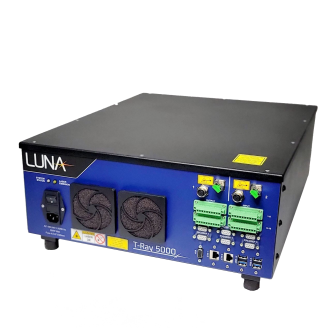 Terahertz Gauging and Imaging
TeraMetrix is Luna's product line for terahertz gauging and imaging, using pulsed terahertz waves to provide precise measurement of single and multi-layer thickness, density, basis weight and caliper thickness.